About Dockside Restaurant
Dockside Restaurant offers superbly prepared classic dishes in a setting like no other. Located on the waterfront where Granville Island faces the city, guests can enjoy panoramic views across False Creek to the world-famous cityscape of Yaletown and beyond to the mountains of the North Shore.
The open dining room is relaxed yet refined, wrapped in spectacular floor to ceiling windows, while the lounge offers warm intimate surroundings for evening cocktails. The award-winning patio catches sunlight from morning to late afternoon. Protected on three sides it's an oasis of calm, disturbed only by the occasional sound of boats making their way along False Creek. Recent renovations have added fireplaces and casual seating areas to this Vancouver destination.
These three venues offer seating options that are perfect for groups from 4 to 200. With signature elements like a 50-foot aquarium and an open kitchen, each meal is an experience for all the senses. Located adjacent to the boutique Granville Island Hotel, the Dockside Restaurant is open seven days a week serving breakfast, lunch and dinner. Reservations are recommended.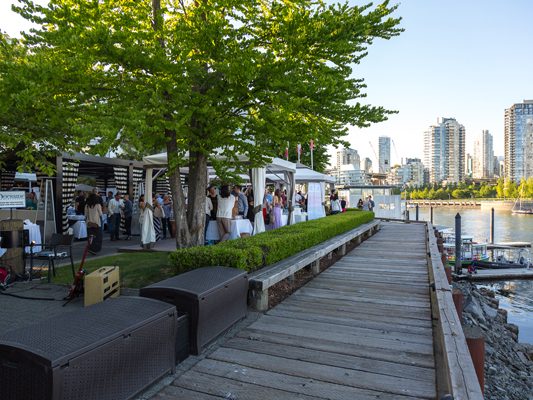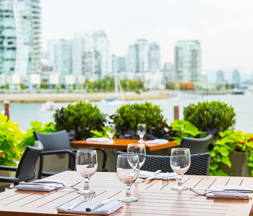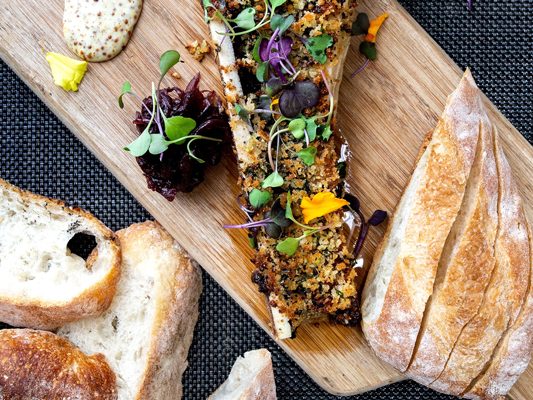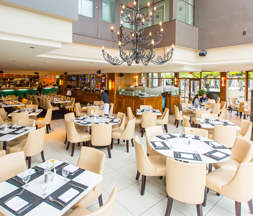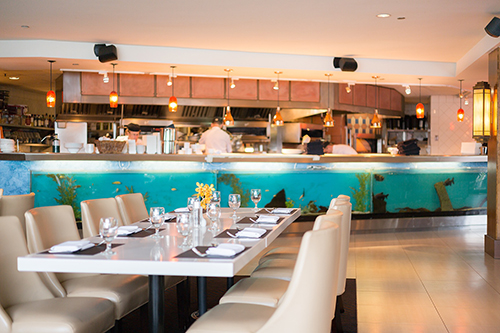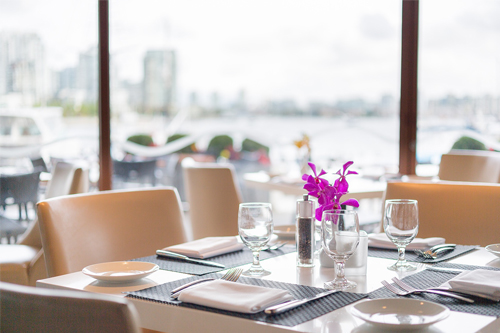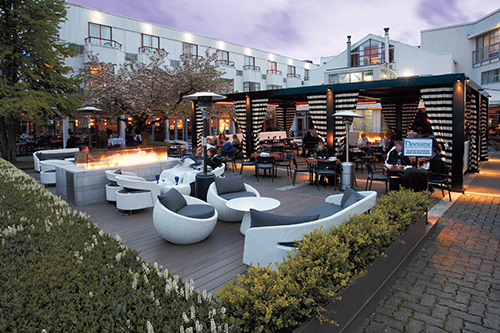 Our largest space, the elegant Dockside dining room, can accommodate groups of 200+ people for sit down banquets and up to 300 people for stand up reception-style events. The dining room is fully equipped with its own Island bar and the floor to ceiling wrap around windows overlooking False Creek and Yaletown's world-famous skyline provide an incredible backdrop for your event. The 50-foot long tropical fresh water aquarium is a conversation piece and a highlight of any event. During summer months, groups that buy out the restaurant also have use of their own "dockside" patio.
Featuring floor to ceiling windows and a 50 foot aquarium, exudes urban dash and sparkle. Watch as our chefs prepare familiar favorites with unfamiliar brilliance. The restaurant is perfect for any size group from 4 to 200. Open seven days a week serving breakfast, lunch and dinner, reservations recommended.
The Restaurant Bar
is the ideal spot for your next networking event. This bright, airy section of The Dockside Restaurant has French Doors that open on to our waterfront patio and has wonderful views of False Creek and Yaletown. Every seat is a window seat in this one of a kind setting, and we can accommodate groups from 20 to 60 depending upon event format. For more casual occasions, we also offer a large selection of hors d'oeuvres.
Discover the perfect place to people watch. The Dockside Restaurant Bar is centrally located, adjacent to the dining room & overlooking the patio and boardwalk. Cozy up to the fireplace or belly-up to the bar. French doors spill out onto the patio while a warm summer breeze washes in. All that with cocktails and appetizers too.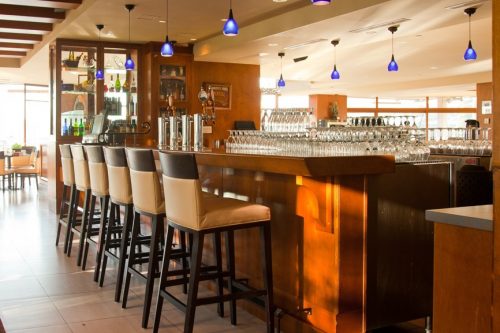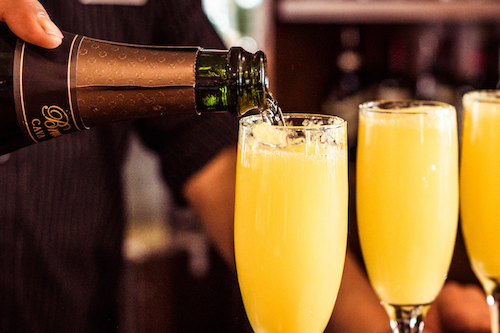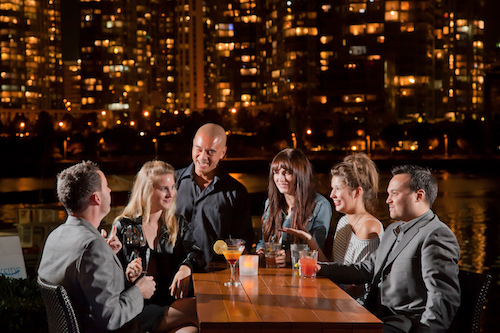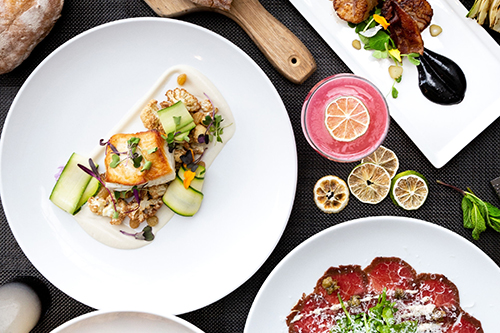 The Dockside Lounge can accommodate groups of up to 100 people for sit down banquets and up to 120 people for stand up receptions. The room is fully equipped with its own bar and a DJ booth with a dedicated sound system and microphone. Indoor and outdoor gas fireplaces add character and warmth to the room while a dedicated section of our newly renovated patio provides scenic views of False Creek and Downtown Vancouver. Smaller parties of 40 or less may reserve the window section overlooking the Dockside Patio with a pre-ordered menu.
Come by and relax by the fireplace or watch a game on one of our many TV's.
Lounge will not be open, but we are still serving drinks in our restaurant bar until 11pm.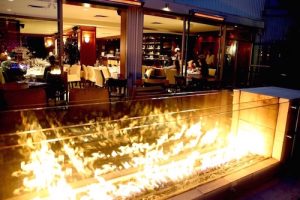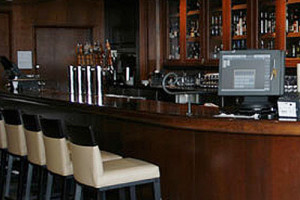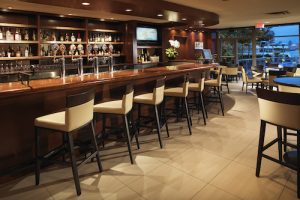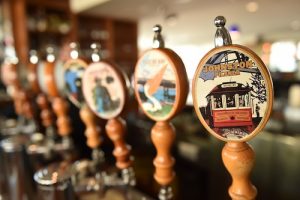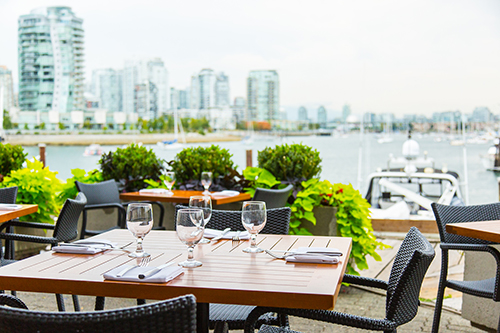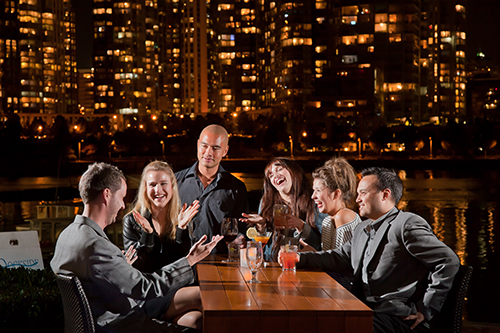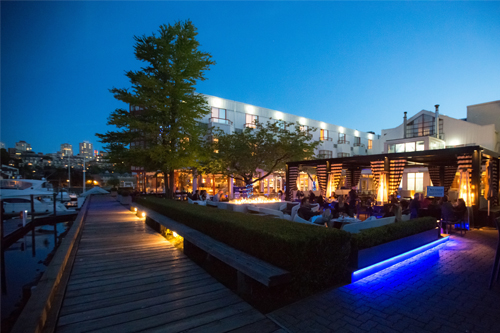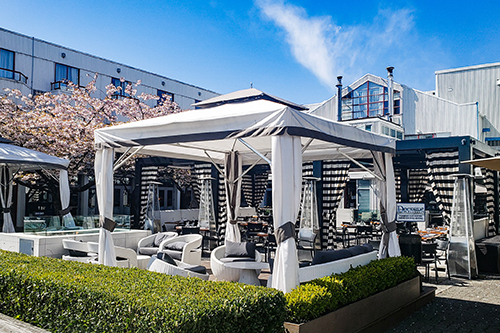 Dockside features one of Vancouver's most iconic patios.
The Dockside Patio is a truly unique False Creek waterfront experience and has been named the "Best Patio in Vancouver" ten years in a row in the Georgia Straight Golden Plate Awards. Breathtaking views of the Yaletown skyline and North Shore Mountains surround al fresco diners as they watch the small vessels travelling along False Creek inlet.
The patio also features outdoor fireplaces and a fully heated cabana for those times when a little more warmth is needed.
Granville Island is an oasis of calm in the heart of a bustling city…experience the best that Vancouver has to offer while dining is style on the Dockside Patio.
Dockside Restaurant Gift Cards make a perfect present any time of year for birthdays, holidays or as a simple thank-you. Available in $50, $100 and $150 denominations, they are simple to use and easily reloadable at the restaurant.
Gift cards orders can be processed in person at the restaurant, or our online in our store and mailed out anywhere in North America. Ask our hostess or your server for more details, or by going to our online store.