CASUAL FINE DINING IN A UNIQUE AND STUNNING SETTING
Dockside Restaurant offers superbly prepared classic dishes in a setting like no other. Located on the waterfront where Granville Island faces the city, guests can enjoy panoramic views across False Creek to the world-famous cityscape of Yaletown and beyond to the mountains of the North Shore.
The open dining room is relaxed yet refined, wrapped in spectacular floor to ceiling windows, while the lounge offers warm intimate surroundings for evening cocktails. The multiple award-winning patio catches sunlight from morning to late afternoon. Protected on three sides it's an oasis of calm, disturbed only by the occasional sound of boats making their way along False Creek. Recent renovations have added fireplaces and casual seating areas to this Vancouver destination.
These three venues offer seating options that are perfect for groups up to 200 people. With signature elements like a 50-foot aquarium and an open kitchen, each meal is an experience for all the senses. Located adjacent to the boutique Granville Island Hotel, the Dockside Restaurant is open seven days a week serving breakfast, lunch and dinner. Reservations are recommended.
Breakfast service to begin at 8am on New Year's Day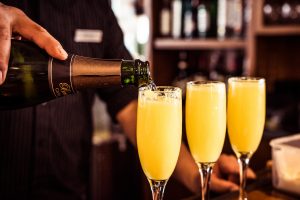 With the celebrations running until late on New Year's Eve, our breakfast service will begin an hour later than usual to start 2018.
Our team will use the extra hour to make sure that everything is perfect and ready to go and we're sure our guests will have enjoyed the extra hour of rest after their celebrations.
If you're still looking for a memorable plan for New Year's Eve, why not join us for dinner and dancing? Melanie Dekker will accompany dinner with live jazz in the dining room and DJ Pri will spin the tunes until the New Year in the lounge.
Click HERE for full details.
Dockside video from V V Magazine
Voted Vancouver's best patio three years running, Dockside Seafood Restaurant is located in the Granville Hotel and boasts spectacular panoramic views of the city, the sky, the mountains, and, of course, the water.
RESERVATIONS
BOOK ONLINE!

SPECIALS AND UPCOMING EVENTS
Come and join us!