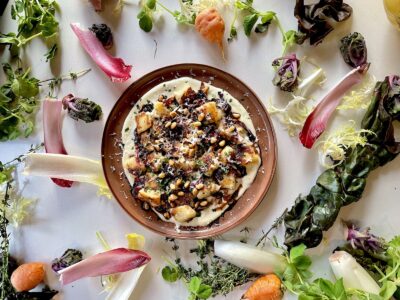 Chef Zachary Steele's memories of Dockside Restaurant and Granville Island start much earlier than the day in 2019 when he took on the role of Executive Chef. As a youngster, he visited Dockside every holiday season, accompanying his mom to the Christm
as Party she hosted there each year. As a chef, he visited Granville Island frequently to source delicious ingredients from the vendors and artisans, and fresh seafood from Fisherman's Wharf.
From dancing on his mother's feet, to crafting some of Vancouver's most creative and delicious menus, Chef Steele has come full circle at Dockside. He remains passionate about Granville Island, and inspired to create comforting dishes, elevated by fresh, seasonal ingredients and superb technique.
Dockside Restaurant's new fall menus are available now. Click HERE to view the menus, and visit soon to enjoy inspired waterfront dining on Granville Island.