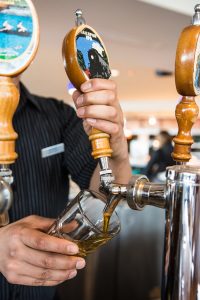 As we do every year, we have updated our wine lists for spring and summer, but this year our drinks program is getting a much bigger facelift with the arrival of a new beer program and local craft spirits in our bar well.
After serving as an apprentice brewer and then honing his skills around Vancouver, our new brewmaster Craig Ludtke has put his own stamp on the beer list with a variety of new new brews and recipes. There will be more new to come later in the Spring and Summer, but there are six new recipes to choose from on tap now.
We're also pleased to introduce our new bar partner, Bohemian Spirits, who will be supplying the gin and vodka in our bar well. Based in BC's spectacular Rocky Mountains, they make delicious small-batch craft spirits that's we'll proudly offer our guests. To learn more about Bohemian Spirits, visit their WEBSITE.