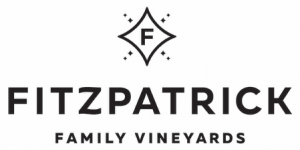 This summer, Dockside is featuring delicious British Columbia wines from Fitzpatrick Family Vineyards, located on the shores of Okanagan Lake. The Fitzpatrick family operates a winery with a strong focus on traditional-method sparkling wine and a fast-rising reputation for clean, fresh, mineral-driven whites.
Click HERE to learn more about their winery, and visit us soon to try their delicious wines which we will be featuring until the end of July.
THE LOOKOUT RIESLING   2018
6oz   129oz 18                        bottle48
nose: honeyed, lemon & lime aromatics
palate: granny smith apple & minerality
Good Weight & Supple texture with acidity that enlivens the residual sugar through a long firm finish
THE ELUSIVE PINOT NOIR   2017
6oz   12 ½              9oz   18 ¾                 bottle50
nose: red berries, leather & spice
palate: dusty earthy tannins, delicate acidity & bright red berry fruit
Light in body with a textural mid palate with a elegant & lasting finish
FITZ CRÉMANT   2017
6oz   12                   bottle 48
CRÉMANT means creamy and the 2017 Fitz has soft fine bubbles with subtle peach and pear aromas. It has bright acidity with a slight minerality and a nutty edge.
A refreshing, very approachable sparkling wine.
Click HERE to download this menu.