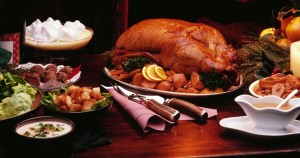 Thanksgiving is a wonderful time of year and Thanksgiving Dinner is a great way to gather friends and family together. This year, Dockside's Executive Chef Simon McNeil has created a delicious traditional Thanksgiving menu so that you can enjoy the celebration without all the preparation.
The meal features fresh local turkey, seasonal sides and accompaniments all made from scratch in our kitchen. It's sure to be a memorable meal in a setting that's spectacular no matter what the time of year.
Thanksgiving Dinner wouldn't be complete without a Pumpkin dessert and we'll be offering a Sicilian twist on the traditional pie with a Pumpkin and Ricotta Cannoli with warm spiced chocolate. Click HERE for the complete menu.
Dinner will be offered Saturday, October 12th to Monday, October 14th after 5pm. Call 604-685-7070 or visit www.docksidevancouver.com to reserve.