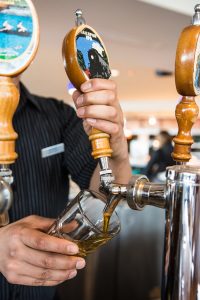 Happy Hour returns to Dockside Restaurant beginning on January 1st! From 3pm-5pm, seven days a week, Dockside will be offering special pricing on food and drink to help bring the work day to an enjoyable end, and get the evening off to a delicious start.
Happy Hour Features 
House White or Red Wine $5
Well brand highballs $5
In-house brewed draft beer $4
Chicken Wings $8
Beer Battered Onion Rings w/aioli $4
Beef Taco $4 each
Shrimp meat sliders $4 each
Visit Dockside Restaurant soon to enjoy Happy Hour in a stunning waterfront setting.