Original brewmaster Peter Haupenthal back at Dockside after opening new Asian craft brewery
Dockside Restaurant is pleased to announce the return of our first brewmaster Peter Haupenthal who is again overseeing all of Dockside's brewing and beer making. Peter was instrumental in opening Dockside's brewery and during the nearly 10 years he ran all brewing operations, he helped to make Dockside one of Vancouver's premiere destinations for craft beer.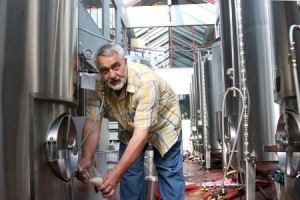 Peter began his journey in brewing 40 years ago in his hometown of Merzig, Germany and he has worked continuously in brewing since then. He served his brewing apprenticeship in Switzerland and Germany before attending the famous VLB Berlin school where he received his Master's Diploma in Brewing and Malting.
His work has taken him across the World, brewing in places as far-flung as Nigeria, Bolivia, the Marshall Islands and Belize. Most recently, he spent three years in Cambodia where he started up and ran Kingdom Breweries, the country's first craft brewery.
Dockside is pleased to welcome Peter back to the team. He has already begun to put his stamp on the brews including the seasonal Haupenthal Hefeweizen which bears his name and Jamaican Lager, a hibiscus-infused lager that's become a Dockside summer favourite.
Craft beer fans get a special chance to sample Peter's brews during Vancouver Craft Beer Week with the best deal of the year on Dockside tasting flights. From May 31st to June 8th, six-pack tasting flights will be just $9 (reg $14). This offer can be enjoyed in the lounge or on the lounge patio.
Peter will also be leading weekly brewery tours at Dockside each Thursdays at 4:30pm. These are a great opportunity to learn more about Dockside's brewing process. The tours are free and, as space is limited, reserving by emailing jonathan@docksidevancouver.com is highly recommended.
For more information on Dockside Brewing, visit www.docksidevancouver.com.