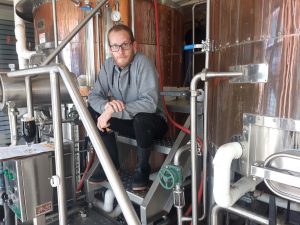 Dockside Restaurant is very pleased to announce the appointment of Craig Ludtke as brewmaster, where he will oversee all facets of Dockside's in-house brewing program. Craig has been part of the Dockside team for since 2010 and has spent several years honing his craft as an apprentice and assistant brewer while also pursuing his Cicerone certification.
Since taking over as brewmaster, Craig has reformulated the recipes for all Dockside's signature beers and added his first seasonal creations to the beer list. While Dockside's new brewing program is intended to appeal to the widest range of beer lovers, Craig has leaned upon Cicerone training to create several distinctly food-friendly new recipes to pair with Dockside's West Coast cuisine.
With patio season on the horizon, Craig's first set of seasonal beers have been created with warm days in mind. The Strawberry Blonde is a crisp lager blended with BC strawberries for a perfect summer choice. The Smoked Honey Lager adds BC honey and a hint of smoked malt to a classic red lager recipe for a flavour that's balanced, full-bodied, and refreshing. Both can be enjoyed throughout the sunny season on Dockside's patio, recently named "Best in Vancouver" for an unprecedented 8th straight year.
Click HERE to view the new beer list and visit Dockside soon to enjoy Craig's delicious house-brewed beers.