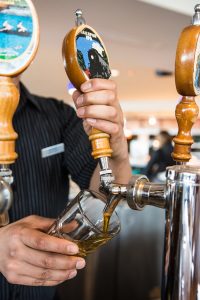 Dockside Restaurant is getting into the Oktoberfest spirit with two seasonal beers brewed in house by brewmaster Craig Ludtke. Both beers are traditional German styles closely associated with the season and celebration.
The first beer is a Märzenor Oktoberfest Lager, a classic Bavarian beer that was originally brewed in March (März) and then cellar stored until the end of summer when brewing season resumed. It's a rich golden lager with a medium body and slightly higher alcohol content (5.5% ABV/20 IBU). It's highly sessionable and goes well with traditional pork-based Oktoberfest foods.
Wheat beers have come to be associated with summer drinking, but the traditional Harvest Hefeweizen Dunkelweizen is one of the most popular Fall and Winter German beer styles. The wheat in the grain mix is blended with roasted malts to add a depth of colour and toasted flavour notes to the drink. Dockside's Dunkelweizen (5.0% ABV/10 IBU) goes well with ham and poultry, and is perfectly enjoyable all by itself.
The Märzen and Dunkelweizen are being poured now and will be on tap while quantities last.
Prost!