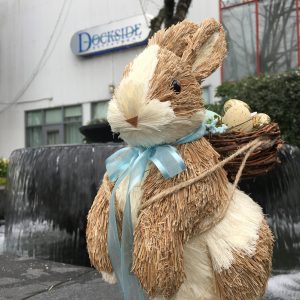 Have your most delicious Easter ever with our famous brunch buffet!
Celebrate a delicious Easter with family and friends at Dockside's Easter Brunch Buffet. Everyone will love enticing ranged of made-from-scratch dishes from food stations like The Great Chill, The Butcher, The Market, and The Wharf. Two seatings will be offered: 10AM and 1PM.
The Easter Buffet will be offered on Easter Sunday, April 1st, and costs $59.95 per person with children under 12 yrs $32.95 (tax and gratuity not included). Reservations can be made by emailing info@docksidevancouver.com or calling 604-685-7070.
Click HERE for a downloadable version of the menu.
Dockside Restaurant Easter Brunch Buffet 2018 
$59.95 per peson      
Children 12yrs and under  $32.95 
The Great Chill
Dockside Caesar Salad
 Seven Leaf Greens
 The Cobb Square
Chilled Mussels & Prawns
Smoked Seafood Platter
Local and International Cheese Display with House Compotes and Berries
Local, House Cured and International Charcuterie with House Pickles and Mustards
Lavache, Cracker Bread, Rain Coast Crisps, Artisan Rolls,
Continental
 Honeyed & Vanilla Bean Yogurt,
House Granola
House Baked Muffins, Danishes, Croissants and Pain Aux Chocolate
Bagels, Multigrain, Rye, Sourdough, Gluten Free Breads
Jams, Jellies and Marmalades
Whipped Butters and House Cream Cheeses
The Butcher
Slow Roasted NY Strip Roast with Artisanal Mustards and Horseradish Jus
Brown Sugar and Dijon Crusted Berkshire Ham
Smoked Bacon, Turkey Sausage, Bangers
Chefs Cooked To Order Marketplace Kitchen
Eggs Benedict Station
Made to Order Omelets
Scrambled Omega Eggs with Aged Cheddar and Chives
Buttermilk Pancakes, French Toast
The Market
Lemon Chili Fried Potatoes, Roasted Tomatoes,
Seasonal Market Vegetables
The Wharf
Grilled Salmon
Dockside Chili Squid
Chef's Grand Sweets Station