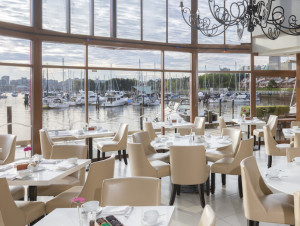 What's more romantic than a sumptuous dinner for two? Enjoying that same dinner on the waterfront with spectacular views of False Creek and the Yaletown skyline.
This year, Dockside Restaurant is pleased to offer a romantic four course dinner that's certain to make the evening special. The menu, created by Executive Chef Victor Jacinto and his team, highlights Dockside's signature Ocean Wise seafood and finest ingredients, all prepared with flair, attention, and creativity.
This menu will be offered on Tuesday, February 14th and costs $89.99 per person (tax & gratuity not included). The evening will be made extra-special by live music from Dockside favourite Melanie Dekker, who will perform from 5:30-10:30PM in the dining room.
A special three-course table d'hôte menu will also be offered from February 10th-13th, in addition to the normal a la carte menu. To book your table for dinner, call 604-685-7070 or click HERE.
Valentines 2017  $89.99pp
Wine Pairings Available
● ● ● ● ● ● ● ● ● ● ● ● ● ● ● ● ● ● ● ● ● ● ● 
Artisan Rolls and House Butter
Café de paris butter and roasted shallot butter
● ● ● ● ● ● ● ● ● ● ● ● ● ● ● ● ● ● ● ● ● ● ●
To Start
● ● ● ● ● ● ● ● ● ● ● ● ● ● ● ● ● ● ● ● ● ● ●
Smoked Salmon Amuse Bouche
Lavash, Dill Cream Cheese & Pickled Red Onion
Appetizers
● ● ● ● ● ● ● ● ● ● ● ● ● ● ● ● ● ● ● ● ● ● ● 
Tuna Tartare
Cucumber, Avocado, Sesame Soy, Lotus Root Chips
OR
Frisee and Arugula Salad
Grilled Asparagus, Preserved Lemon Vinaigrette,
Soft Boiled Egg & Toasted Sunflower Seeds
Entrees
● ● ● ● ● ● ● ● ● ● ● ● ● ● ● ● ● ● ● ● ● ● ● 
Grilled Sockeye Salmon
Celeriac and Apple Puree, Green Kale Salad, Pickled Golden Sultanas,
Pine Nuts & Regianno Cheese
OR
Grilled Beef Tenderloin
Buttered Haricot Verte, Pomme Dauphinoise & Crab Bernaise
OR
Wild Mushroom Risotto
Grillled Cipollini Onions, Crispy Sage & Truffle Oil
To Finish
● ● ● ● ● ● ● ● ● ● ● ● ● ● ● ● ● ● ● ● ● ● ● 
Orange Scented Milk Chocolate Pot De Crème
Candied Hazelnuts
OR
Macerated Strawberries
Short Cake Crumb, Whpped Cream & Basil
● ● ● ● ● ● ● ● ● ● ● ● ● ● ● ● ● ● ● ● ● ● ● 
executive chef                          victor jacinto                    
sous chefs      dave keske   richard tamayo   viktor mruchkovskyi